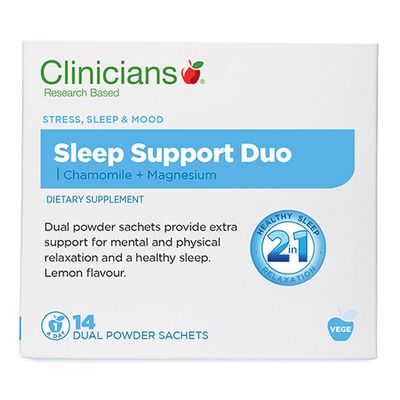 Sleep Support Duo 14pack
Clinicians
$0.00
Out of stock
Dual sachets combining Chamomile and Magnesium for mental and physical relaxation and a healthy night's sleep.
Supports bedtime relaxation, falling asleep and staying asleep
Unique 2-in-1 formula of Chamomile and Magnesium
Relaxing bedtime drink that can be had hot or cold
How it works
Sleep Support Duo sachets combine research based ingredients, Chamomile and Magnesium to support a good night's sleep.
Chamomile is a well-researched traditional herb that is widely used for relaxation. It supports the nervous system, which can become out of balance during stressful times. It helps bedtime calm by supporting brain chemicals that help with mental relaxation and healthy sleep patterns.
Magnesium is a mineral that is often depleted at times of stress, which contributes to sleep issues. It can support the production of our sleep hormone melatonin for healthy sleep patterns and deep sleep. It can also support muscle relaxation, which is essential for healthy sleep.
How to take it
Adults: Take one dual sachet daily. Fold sachets and tear to open. Pour the powder contents into warm or cold water and stir well.
SKU: 505722