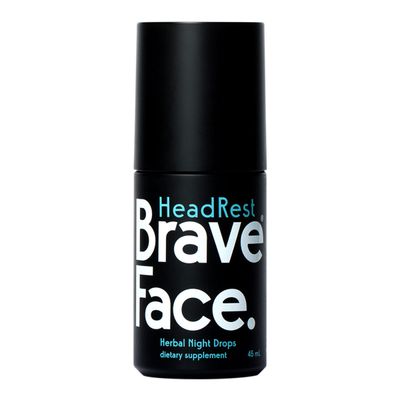 BraveFace HeadRest 45ml
BraveFace
$53.00
HeadRest natural sleep remedy helps you fall asleep and stay asleep - because when you're well-rested, you're unstoppable.

HeadRest night drops concentrate, is a supplement designed to support you falling and staying asleep on restless nights. 
If you lie in bed tossing and turning and need support to calm your mind and body, HeadRest night drops will become your bedside essential.

Formulated with calming Passionflower and sleep-inducing Chamomile, HeadRest offers the sleep support you deserve, encouraging deep relaxation and a high-quality night's rest. 
Extracted in high potency, therapeutic doses, our herbal ingredients are backed by science and clinically studied to get results. 

If stress or worry are keeping you up at night, reach for HeadRest natural night drops - because when you're well-rested, you're unstoppable.
Supplemental Facts
Serving Size: 45 mL
Servings per container: Each 0.52 mL pipette contains
Amount per serving% Daily ValuePassionflower (Passiflora incarnata) ext. equiv to fresh whole herb 667 mg
Chamomile (Matricaria recutita) ext equiv to fresh whole herb 133 mg
** Daily value not established
Also contains:
Purified Water, natural flavours, thaumatin, gamma cyclodextrin, citric acid, sodium citrate, potassium sorbate, sodium benzoate.

Directions:
Shake bottle before use . Once opened, use within 90 days. Adults: Take 3 full pipettes and empty into the mouth 15 minutes before sleep
Warnings:
Consult a physician before use if you are taking any medication, have a medical condition, are pregnant or nursing. Avoid use before or while operating a motor vehicle or heavy machinery. Keep out of reach of children
Storage:
Store below 30°C


SKU: 2613948